A large number of glaucoma patients in developing countries like the Philippines go blind due to lack of public awareness about the disease and lack of access to affordable and quality eye care. This is a huge tragedy considering that most cases of blindness due to glaucoma can be prevented with early diagnosis and proper treatment. In fact, many Filipino glaucoma sufferers go blind without ever having seen an ophthalmologist.
Hence, in response to the growing need to alleviate the burden of glaucoma in the country, the Philippine Glaucoma Foundation (PGF) was established, in 2007. Our ultimate goal is to prevent glaucoma blindness among Filipinos. We provide financial and logistical support for the treatment of indigent glaucoma patients. But beyond helping individual patients, we take a broader view of the glaucoma blindness situation in the Philippines. We use our unique awareness of the conditions in the Philippines to tailor its approach to the local setting. We initiate and endorse activities that increase awareness of glaucoma, promote efforts to educate ophthalmologists and other eye care professionals in the proper diagnosis and care of glaucoma, and support research into glaucoma.
Meet Inday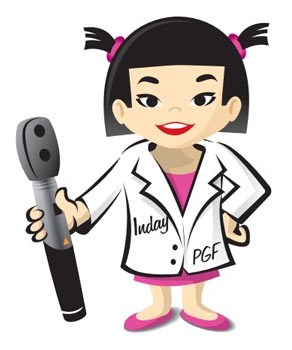 Inday is the name of the PGF mascot. Her name is derived from "In the Eye of the Philippine Glaucoma Foundation." She is a 5 year old girl, whose parents suffer from glaucoma. Knowing that she will likely inherit the disease, she dreams of becoming a glaucoma specialist so that she can help her parents and other similarly situated people. She also hopes to fight the disease by taking part in research relating to glaucoma.