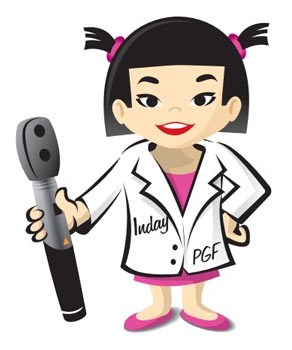 The Philippine Glaucoma Foundation (PGF) disseminates information about glaucoma to the general population through print media, radio, television, online media and lay forums particularly during World Glaucoma Week which is a worldwide awareness activity held during March every year.
The Foundation supports professional education on glaucoma. We hold workshops on the glaucoma diagnosis and treatment all over the country usually in cooperation with the local society of ophthalmologists. The faculty of the workshops, who are all members of the Philippine Glaucoma Society (PGS), conduct lectures, case presentations and case consults on various topics in the diagnosis and management of glaucoma for audiences composed of practicing ophthalmologists and ophthalmology residents. Some of the major cities that have been visited include Cebu, Cagayan de Oro, Baguio, Clark, Davao, Iloilo, Tuguegarao, and Metro Manila. We also support the year-round continuing medical education activities of the PGS that are held for the benefit of practicing ophthalmologists and residents alike such as the congresses, instructional courses and symposia.
The Foundation continues to sponsor glaucoma laser treatment or glaucoma surgery for countless indigent glaucoma patients who would otherwise not have access to these procedures.
The Foundation currently supports the Philippine Glaucoma Society in its glaucoma research efforts and we plan to provide research grants to Filipino ophthalmologists and ophthalmology residents interested in glaucoma.
Do you need help with your glaucoma? Click here.
Our Sponsors and Donors
Alberto Avanceña
FedEx
Pacific Eye Institute
Alcon Laboratories, Inc.
Filipinas Shell
Penta Capital
Alcrej Corp.
Filipinas Tecknomed
Perfect Eye Center
Allergan
Filoil
Pfizer
American Eye Center
Fino Leatherware
PharmaAsia-Cuvest, Inc.
Arsenio Tanco
First Gentleman's Foundation
Phil. Airhawk
Asia Pacific Eye Center
Global Eye Specialist
Philippine Daily Inquirer
Asian Eye Institute
Godhands Water Specialists
Plastilens
Asian Hospital & Medical Center
Green Cross Inc.
Pointwest Technologies
ASPAC Eye Laser &  Surgicenter
Hollywood Optical Supply
QC Eye Center/ Eye Center Conglomerate
Bausch & Lomb
IMDS
Rafael Perez de Tagle / MRT DevCo
Betonval Readyconcrete Inc.
Integrated Ophthalmic Products, Inc.
River Valley Eye Center
Biñan Doctors Eye Center
International Eye Center
Rodrigo Sabando & Edison Ferrer
Borough Med Care Institute
Ivy Edralin/ Mark Nicodemus
RS Concepts, Inc. / Horacio Alfonso
BP Waterworks, Inc
Kasilawan Lodge
SANTEN
Calamba Eye Center
Lourdes Avanceña
Senator Manny Villar
City Eye Center
LSGI
Solid Blue
Croma Medic
Ma. Anna Margarita Bautista-Dy
The Big Fish Place
Delfin Hermanos, Inc.
Manila Vision Eye Center
TJ Development, Inc.
Dr. Corazon Estrella
Manuel David
Topcon
Dr. Cristina Pena
Marco Polo Hotel Manila
TV5/Cignal TV
Dr. Hector Deluria
Medilight
VFL Advisors Inc. / Edwin Villanueva
Dr. Larry Daswani
Microlab
Villman Computers
Dr. Noel Chua
Mr. Rene Reinoso
Viva Films
Dr. Rodolfo Chuanico +
MRC
Worldwide Insurance Agency
Destinations Unlimited
EastWest Bank
Ophthamed Pharma
 
Fatima Medical Center
Optovue